Gnocchi al Sugo di Maiale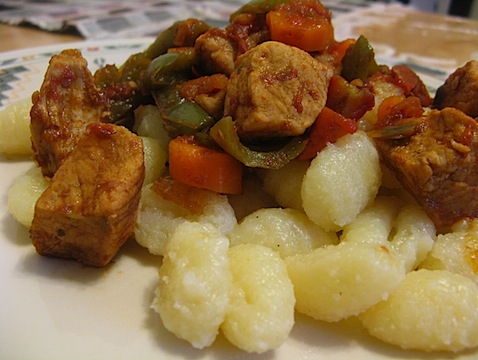 This is the first recipe I've tried out of my new Culinaria Italy cookbook. I really like the Culinaria series (I own Culinaria Greece as well) because they are packed with information and great pictures of the food and region, and contain tons of information about the ingredients and the food itself, not just recipes. The book gives the english name of this recipe to be "pasta with pork ragout," and as given in the recipe this is true, as it originally calls for gnocchetti, not gnocchi, as the base. Gnocchetti are made of semolina, not potatoes like gnocchi, and are often dried. Not knowing the difference when I was buying ingredients for this dish, I substituted gnocchi, which worked out fine.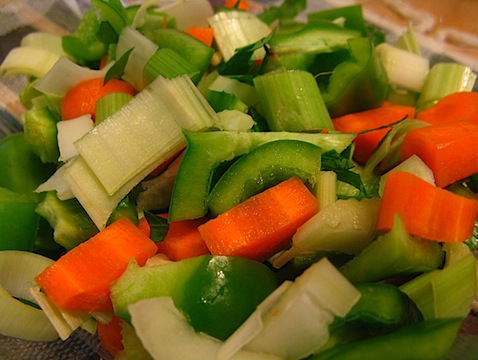 The dish starts out with a vegetable base: leeks, carrots, celery, parsley, and I added some green pepper, though it wasn't in the original recipe. These are sautéed lightly in olive oil, but they don't need to be cooked very thoroughly, as they will spend plenty of time in the pan.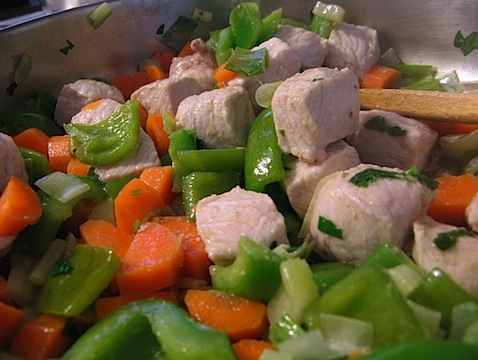 In go the pork chunks, which are browned. Again, they don't need to get cooked through, just mostly through. In retrospect I probably should have turned the heat up higher and given them a good sear to create some real browning on the outside, but by the time I thought of doing it they were already in this state.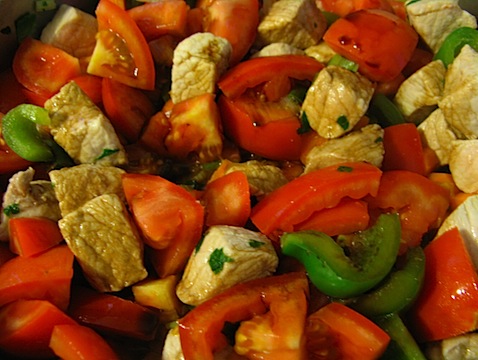 After the pork is browned, chopped tomatoes and some balsamic vinegar go in. Actually, the original recipe called for a "1/2 glass red wine", but having no red wine open nor the chance to visit a liquor store to get some, I used good balsamic vinegar instead. It probably changed the character of the dish quite a bit from the original, but the addition of vinegar here gave what basically would have been a tomato sauce a different kick that turned out to be quite delicious.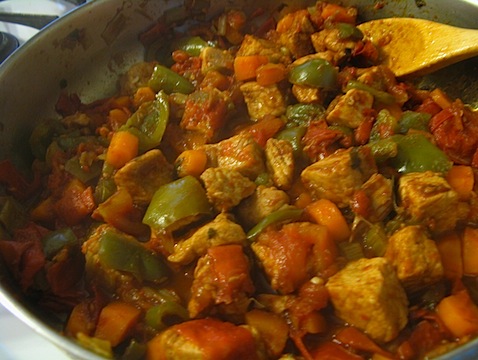 After cooking down for an hour, covered, the ragout looks ready to go on your pasta of choice. Nicely, most of the vegetables, including the tomato, had held up well and resulted in a chunky sauce.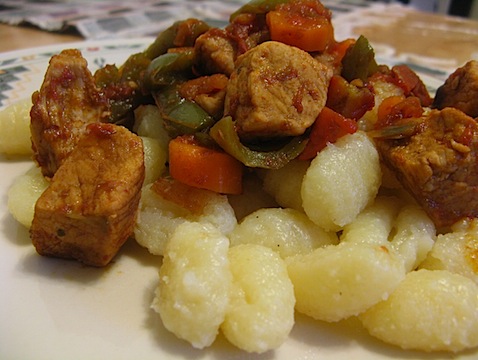 The ragout worked well with the gnocchi. It's not particularly "saucy", but there was definitely enough to coat everything and provide a base for the meat and vegetables. I think this would work well with other meats like beef or chicken, or even sausage, and it was a welcome twist on our classic pasta and vegetable meat sauce.
Gnocchi al Sugo di Maiale – Gnocchi with Pork Ragout (adapted from Culinaria Italy)
Ingredients
2 medium-sized carrots, chopped
1 leek, chopped
2 celery stalks, chopped
1 small green bell pepper, chopped
1 handful of fresh parsley, chopped
1 pound pork, cut into cubes
1/2 cup balsamic vinegar
4 medium tomatoes, chopped
salt and pepper
1 pound gnocchi or gnocchetti, cooked
Directions
Sauté the vegetables and parsley for a couple of minutes in olive oil over medium heat.
Increase the heat to medium-high and add the pork, browning all sides.
Add the tomatoes, vinegar and salt and pepper and reduce the heat to low. Stir well and cover. Let simmer for 1 hour.
Serve over gnocchi, gnocchetti or your favorite pasta.