Adobo Chicken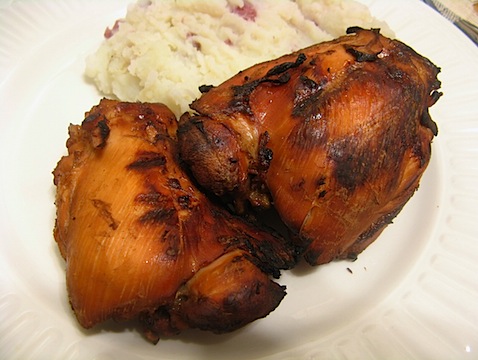 Last weekend we almost found ourselves grilling in the rain again, but at the last minute the sun came out and the grilling gods smiled upon us. It was a good thing, too, because it allowed us to make this amazing Adobo Chicken recipe from the NY Times. The chicken is basically cooked twice which imparts a full, rich flavor throughout the meat and keeps it moist and delicious throughout.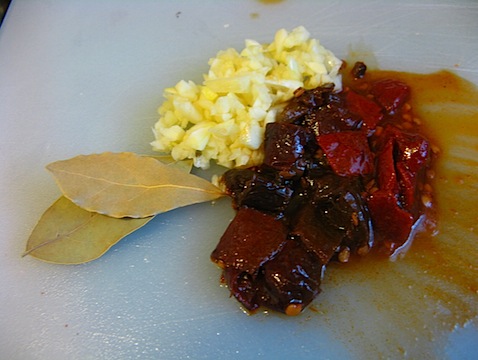 The chicken is poached first in a mixture of soy sauce, rice vinegar and a few spices: garlic, bay leaves, black pepper and a diced chipotle pepper. The recipe called for a dried chipotle, but not being able to find one I substituted a couple of small canned chipotles in—what else—adobo sauce. I figured it would be an acceptable addition.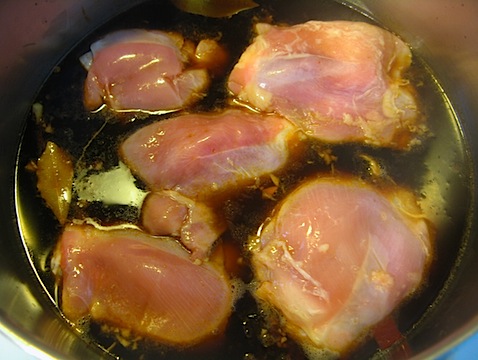 You want to poach the thighs in a pot where they can fit in one layer, but the liquid doesn't have to cover them. Just flip them throughout the cooking so that they are cooked evenly on both sides. The recipe called 1 whole cut up 3–4 pound chicken or 2 pounds of bone-in thighs; I'm not sure how that math really adds up, but I do know (now) that 2 pounds of thighs doesn't really yield 4 servings. Oh well.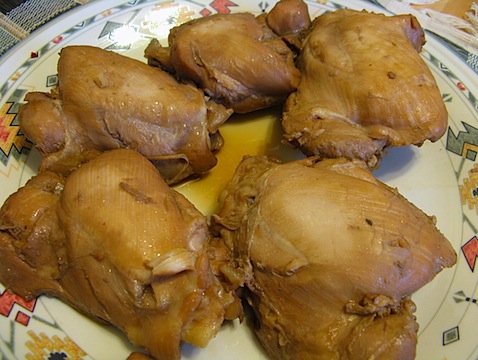 The poached chicken is brown and cooked through. It'll go on the grill to get a nice caramelized and somewhat crisp exterior.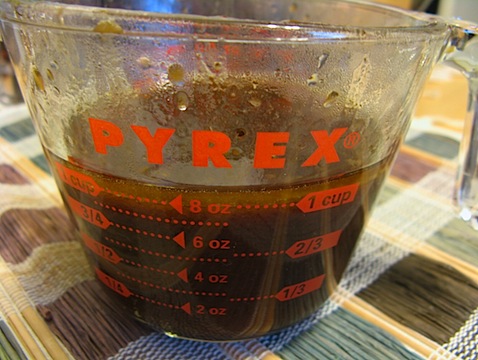 After the chicken is removed the remaining liquid should be cooked down to about a cup. It won't be thick like gravy, but it will be a very tasty sauce that is spooned over the grilled chicken and onto the rice or mashed potatoes used as a side.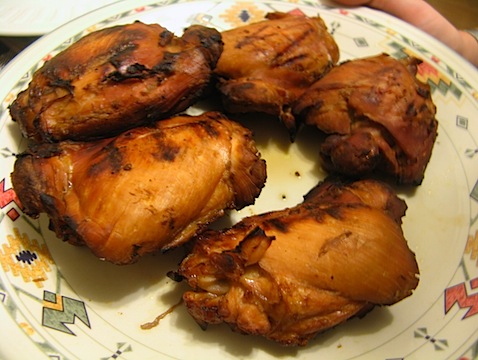 Once grilled, the chicken becomes a darker, more rich shade of brown. It has all the benefits of being grilled (slightly charred exterior, flavor from the charcoal), as well as the benefits of being braised for a while (exceedingly tender and juicy). The grilling also helps to seal up the juices inside.
Like I mentioned before, this only supplied us with one dinner, not two like we usually shoot for. We did, however, have a ton of sauce left over. A few days later, I diluted what was left with a cup of water and braised some more chicken legs in it until the meat was pretty much falling off the bone. This I shredded and used for filling for tacos, and along with some freshly made salsa that incorporated some of the leftover chipotle peppers, made for another fantastic meal.
Adobo Chicken (from the NY Times)
Ingredients
3/4 cup soy sauce
1/2 cup white or rice vinegar
1 cup of water
1 tablespoon chopped garlic
2 bay leaves
1/2 teaspoon freshly ground black pepper
1 dried chipotle pepper or two small canned chipotles in a little of their sauce, chopped up
1 whole (3- to 4-pound) chicken, cut up (with legs separated from thighs); or use 2 pounds bone-in thighs or leg/ thigh pieces cut in two.
Directions
Combine all ingredients in a covered pot large enough to hold the chicken in one layer. Bring to a boil over high heat; reduce the heat to medium-low or low (you want a slow simmer, nothing more). Cook, covered, about 30 minutes, turning once or twice, until chicken is cooked through. (You may prepare the recipe in advance up to this point; refrigerate the chicken, in the liquid, for up to a day before proceeding.)
When you are ready to grill the chicken, start a charcoal or wood fire or preheat a gas grill or broiler. The fire need not be too hot, but place the rack just 3 or 4 inches from the heat source.
Remove chicken, and dry it gently with paper or cloth towels. Boil liquid over high heat until it is reduced to about 1 cup; discard bay leaves and chipotle; keep sauce warm.
Grill or broil chicken until brown and crisp, 5 minutes per side. Serve chicken with sauce and white rice or potatoes.