Blitz Bread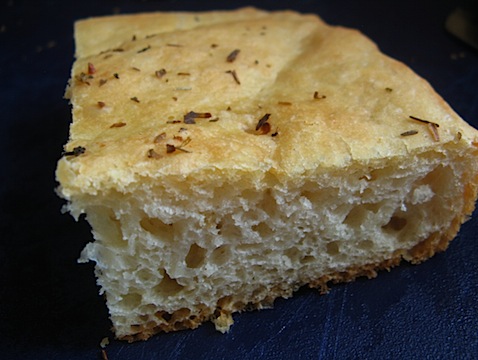 Some weekends, you're in a hurry and don't have time to mess with starters, or kneading, or shaping, or letting the bread rise twice. Those weekends, it's time for Blitz Bread, which is basically the easiest foccacia ever. It can be used like any foccacia, accompanying a meal, or on it's own with some oil and herbs, but it's just the right hight to be split horizontally and make a fantastic sandwich bread, too.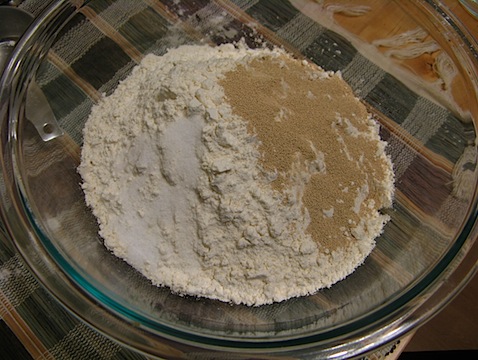 It really just starts out with all the basics: all-purpose flour, yeast and salt.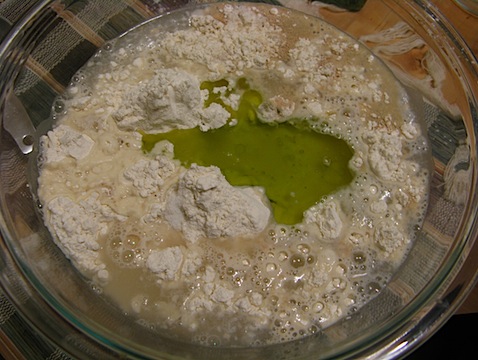 In goes some water and good olive oil. Yes, my olive oil really is that green; it's Greek olive oil (specifically Minerva brand), the only olive oil I'll use anymore after living in Greece for a few months. It's somewhat fruitier than Italian olive oil, and to my tastes richer and more flavorful. In any case, it's worth it to use a good olive oil for this recipe, whatever kind you like best.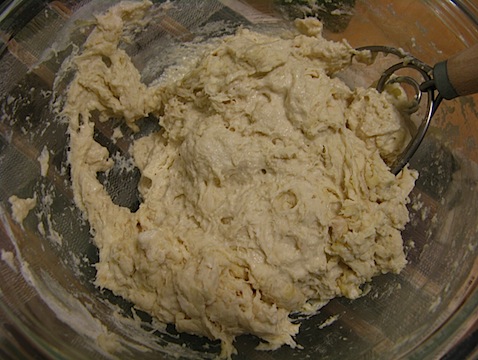 It all comes together easily with the dough whisk. Like most no-knead or barely-knead breads, this dough is pretty wet.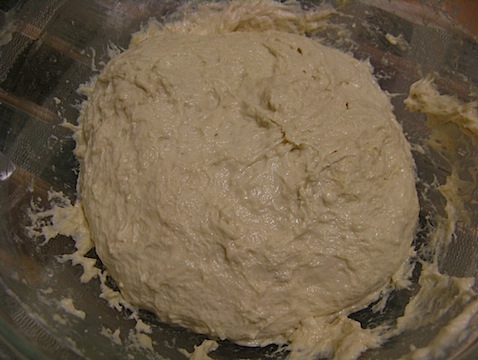 This recipe is basically no-knead, but I give the bread a good beating with my hand mixer and dough hooks for a couple of minutes, and it really smooths out and comes together well.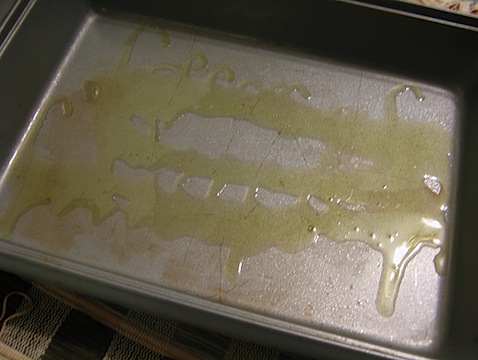 Pan prep. The pan needs to be sprayed with non-stick spray and olive oil drizzled in. Don't drizzle too much, just a tablespoon or two, or else you'll end up with soggy bread.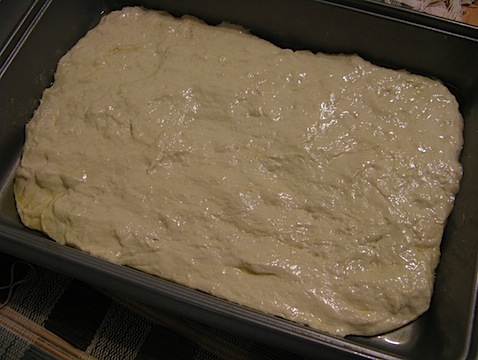 Scoop the dough into the pan, grease your hands well, and spread it out until it fills up the pan (mostly). This process benefits from giving it a few minutes to rest every once in a while, because the dough is very springy and doesn't really want to go where you push it.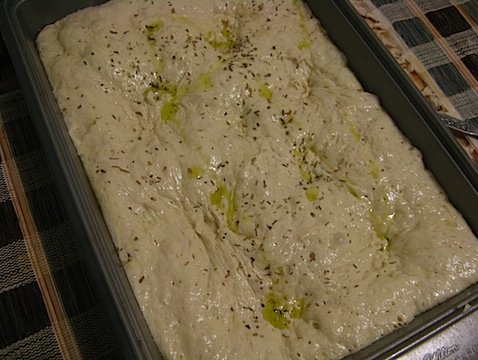 Let the dough rise for about an hour, or until it puffs up a lot and basically fills the pan. Then poke it a few times with a well greased index finger, sprinkle some Italian herbs on it (basil and oregano mostly), drizzle it with a little more olive oil (now you see why the quality is important!), and stick it in the oven. It will deflate a bit when you poke it, but it will spring back up in the oven.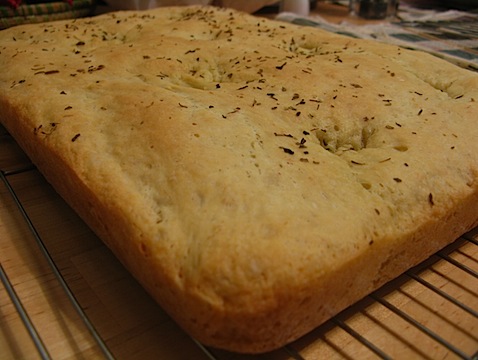 When it comes out of the oven you should immediately remove it from the pan (again, the consequences are soggy bread). This is most easily done if you have two long cooling racks; place upside down on the top of the baking pan, flip the bread over so it pops out (which it should do easily if you greased it enough), then place the other rack upside down on the bottom of the bread and flip it back over so that it's rightside up.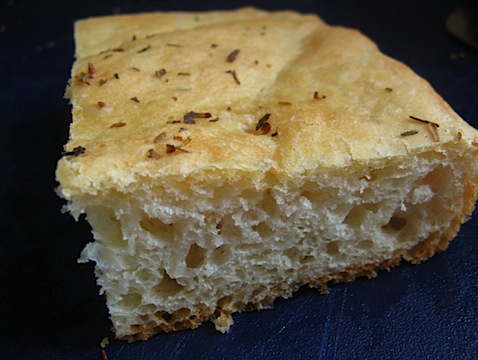 The flavor on this bread is great, and it has a fantastic crumb. It's light and a bit holey without much of a crust at all, though the edges are thicker and chewier. Like I said, it makes great sandwich bread, and is probably the least work-intensive bread out there.
Blitz Bread (from King Arthur Flour)
Ingredients
1 1/2 cups (12 ounces) warm water
3 tablespoons (1 1/4 ounces) olive oil (plus additional for drizzling)
1 1/4 teaspoons salt
3 1/2 cups (14 ¾ ounces) Unbleached All-Purpose Flour
1 tablespoon instant yeast
Directions
Lightly grease a 9″ x 13″ pan, and drizzle 1 to 2 tablespoons olive oil in the bottom.
Combine all of the ingredients, and beat at high speed with an electric mixer for 60 seconds.
Scoop the sticky batter into the prepared pan, cover the pan, and let it rise at room temperature for 60 minutes, till it's become puffy.
While the dough is rising, preheat the oven to 375°F.
Gently poke the dough all over with your oiled index finger.
Drizzle it lightly with olive oil, and sprinkle with the dried herbs of your choice, if desired.
Bake the bread till it's golden brown, 35 to 40 minutes.
Remove it from the oven, wait 5 minutes, then turn it out of the pan onto a rack. Serve warm or at room temperature.