Fresh Fig Clafouti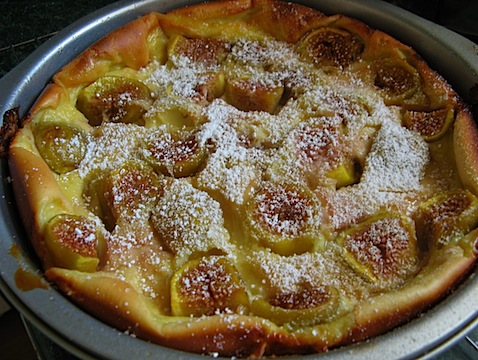 Clafouti is a eggy French custard that is usually served as a dessert, and is most often made with cherries. While looking for something unique to bring to a potluck brunch, I happened across a recipe on Serious Eats for a "Brunch Clafouti", which is really no different from any other clafouti recipe. Even traditional dessert clafoutis fit in well for breakfast with their eggy, fruity flavors. It's sweet but not too sweet, and it need no other adornment than a dusting of powdered sugar. While I considered going with the traditional cherries, or other berries which are also popular, I've been really taken lately with fresh figs, which have shown up in the grocery store in the last few weeks. The figs wouldn't really work with the recipe from Serious Eats, but I found a recipe as part of an NPR story from last year for just the thing I was looking for. It happens to be based on the clafouti from Julia Child's Mastering the Art of French Cooking, which is experiencing a great upswing in popularity thanks to the movie Julie and Julia. My selection of this had nothing to do with this revival, but you can consider this my obligatory food blog contribution.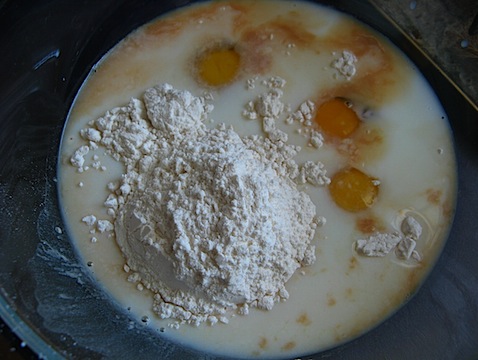 Clafouti batter is very thin, composed of milk, sugar, eggs, and a bit of flour. The one thing I added to this recipe that I took from the Serious Eats recipe was a little almond extract, which added a subtle almond flavor to the final project as well as the standard vanilla extract.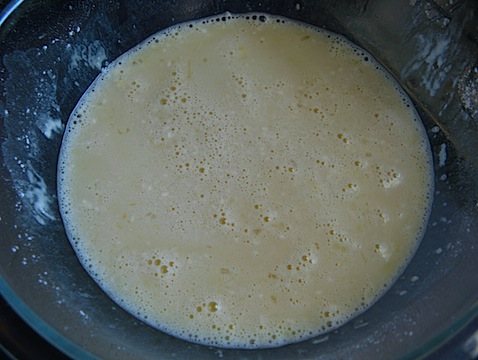 I don't have a very functional blender, so instead of whirling the batter in that to blend it smoothly I used my hand mixer and beaters on a high setting. It worked sufficiently well, and though I could still see a few tiny clumps of flour left, it was not a big deal.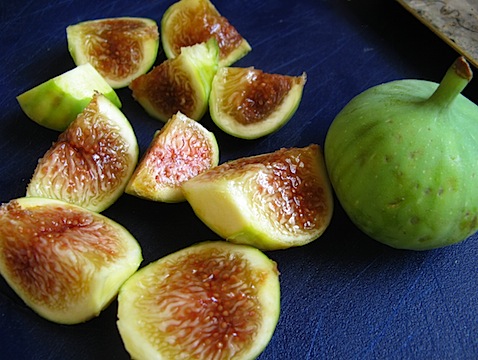 Mmmm, fresh ripe figs. They get quartered for this recipe. They do not need to be peeled, just washed; the skin is perfectly edible and part of their delicious flavor and texture.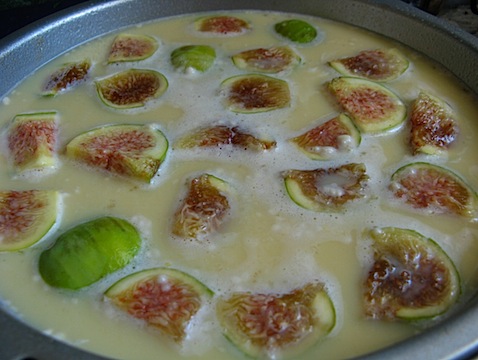 The batter goes in the well greased pie pan, then the figs are placed fairly evenly around. French cooking has this reputation for being complicated, but this is one of the simplest recipes ever.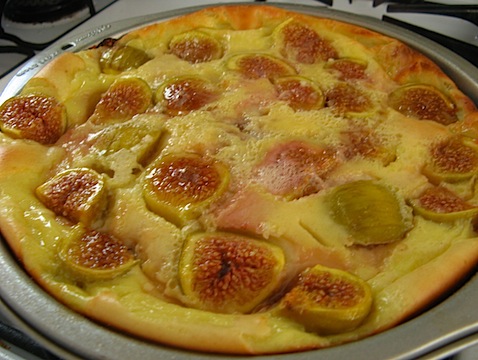 It inflates in the oven, and when you first take it out it's still pretty puffy, but you can see it's already starting to sink a bit.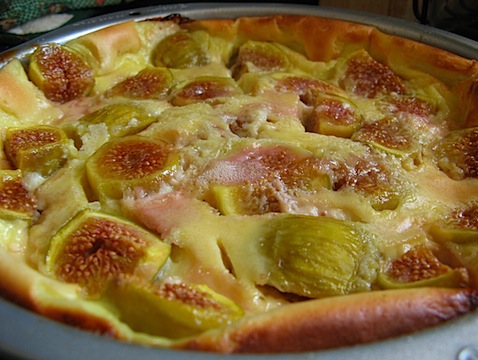 Here it's pretty much fallen completely. This is how clafoutis are: browned and slightly chewy on the perimeter and eggy, fluffy and custardy in the center.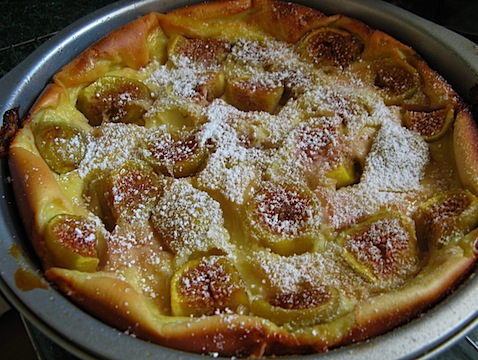 It looks pretty dusted with powdered sugar. It is usually served warm, but it would probably be pretty tasty cold as well. As long as you greased the pan well enough, the slices should come right out. The taste of the figs and how they meld with the custard is probably pretty different from the berries or cherries in the original, but I think they make a great breakfast with their light, fresh flavor. I'd definitely make this again, for a dessert or a breakfast.
Fresh Fig Clafouti (adapted from NPR, adapted from Julia Child's Mastering the Art of French Cooking)
Ingredients
1 1/4 cup milk (low-fat or regular)
1/3 cup granulated sugar
3 large eggs
1 teaspoon vanilla extract
1/4 teaspoon almond extract
1/4 teaspoon salt
1/2 cup all-purpose flour
6 figs, trimmed and quartered
1 tablespoon raw sugar such as turbinado (granulated may be substituted)
Powdered sugar, for serving
Directions
Preheat oven to 350ºF and coat a 9-inch cast iron skillet or pie plate generously with nonstick cooking spray.
Add the milk, sugar, eggs, vanilla, almond, salt and flour to a blender in that order so the flour does not cake onto the blade. Blend on high for 30 seconds. Scrape down any flour adhering to the sides and blend for 30 seconds more, or until smooth. Pour into the skillet.
Scatter the figs over the batter and sprinkle the raw sugar (or granulated, if substituting) on top.
Bake in the center of the oven for 45 to 55 minutes, or until clafouti is puffed and edges are golden brown. A thin knife inserted in the center should come out clean. Cool for 5 to 10 minutes (clafouti will collapse), sift powdered sugar over the top and serve warm.