Harvest Grains Salad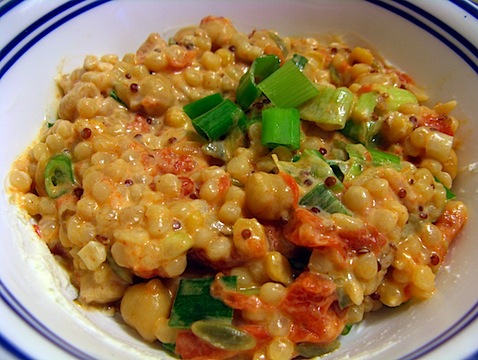 Over the last weekend my boyfriend was out of town, so I decided to experiment with light meals that might not be enough for him to eat for dinner, but would be fine for me. Namely, I had saved a few recipes of grain-based "salads" that would be quick, cheap and at least moderately healthy. One of them was a couscous recipe from Serious Eats (from their "Healthy & Delicious" series, natch). I substituted a lot of different things in this recipe, but the backbone is still there; in fact, you could argue that the recipe itself is like a template that can easily be adapted for various ingredients. To call this a salad is really kind of a misnomer; it's a salad in the same way that any mix of vegetables and grains can be considered a salad. This dish can be served hot or cold, as a main course or a side, and it's dead simple, with few, low cost ingredients.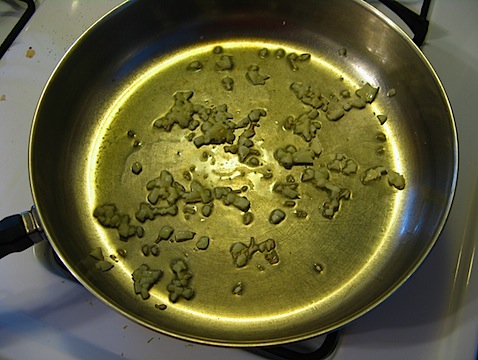 First, sauté some garlic in oil until it is browned. This recipe doesn't actually have any onion in it, which is surprising for me because I don't know when the last time was that I made a stew-type recipe without onions. But it's just garlic here!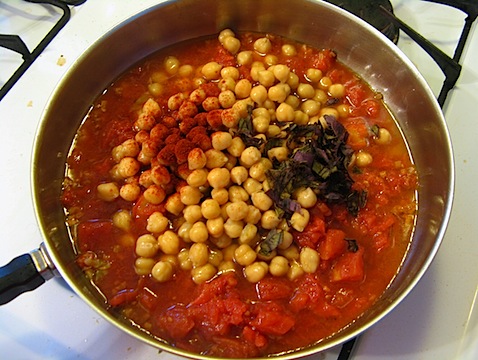 In goes the diced tomatoes, chickpeas, basil (mine was fresh purple basil from my garden) and some paprika. For whatever reason I don't have crushed red pepper in my spice cabinet, and in hindsight I should have probably added more paprika, or some cayenne too, if I wanted any kick from this. But it was tasty and full flavored without the spice anyway.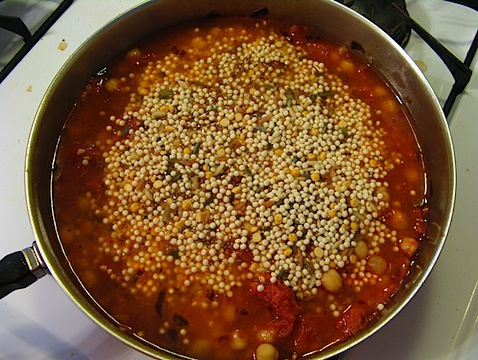 The original calls for couscous; I went with the harvest grains blend from Trader Joe's, which includes Israeli couscous, red and green orzo, split dried garbanzo beans, and red quinoa. It's a great blend, and it worked spectacularly in this dish. However, wanted to make sure it cooked through, so instead of taking the pan of the stove and letting the couscous cook from just the residual heat and moisture, I cooked this for the time listed on the bag (10 minutes) and then took it off the stove.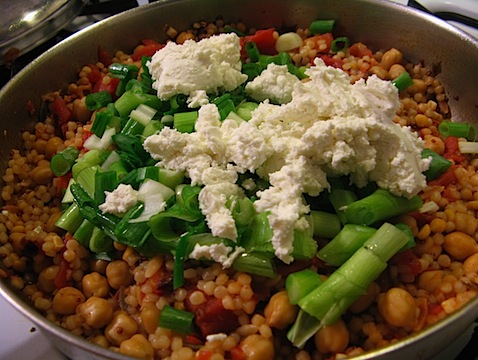 Once everything is cooked, chopped scallions and some crumbled feta or goat cheese get stirred in. The presentation looks pretty good here, and you could probably serve it just like this without mixing everything in (or maybe mix in the scallions but leave the goat cheese on top). Served like this, you would likely have larger hunks of goat cheese populating the dish, unless you stirred it up really well.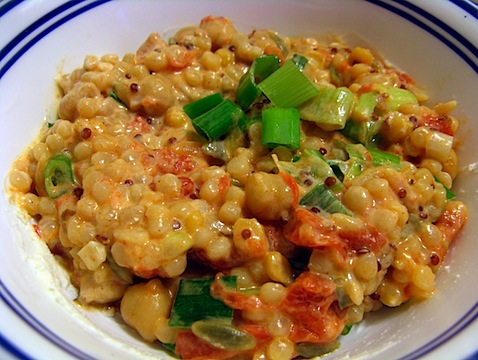 As it was, I stirred everything in at once. The goat cheese quickly melted and left me with a cheesy, creamy sauce. It was really two different dishes; with the goat cheese on the top, the flavors are all more separate, and you get the thinner tomato-y sauce covering the grains with larger, stronger chunks of goat cheese. With the goat cheese mixed in, the flavors mellow out more and everything melds together (in a good way). The goat cheese flavor is still present, but not concentrated and it mingles well with the tomatoes. As I said before, this dish is tasty and filling as a main course, but it also works well as a side; when my boyfriend got home, we used it as a side to a grilled steak along with some fresh sliced jicama in lime juice. The recipe makes a fairly large batch, so it will keep you going for a while.
Harvest Grains Salad (adapted from Serious Eats)
Ingredients
1 tablespoon olive oil
1 teaspoon paprika
4 garlic cloves, minced
2 1/4 cups water, divided
1/4 cup chopped fresh basil
1 (16-ounce) can chickpeas (garbanzo beans), drained and rinsed
1 (14.5-ounce) can diced tomatoes, undrained
3/4 teaspoon salt
1 cup uncooked Harvest Grains blend
1 cup coarsely chopped green onions (about a bunch)
1 cup crumbled feta or goat cheese
Directions
Heat olive oil in a large skillet over medium heat. Add garlic and cook 3 minutes, stirring frequently until browned.
Stir in 1/2 cup water, basil, chickpeas, and tomatoes. Simmer over medium-low heat for 15 minutes.
Add 1 3/4 cups water and salt and bring to a boil. Stir in Harvest Grains blend and simmer, covered, for 10 minutes or until grains are cooked.
Stir in onions and cheese. Serve hot or cool.