Kofta Burgers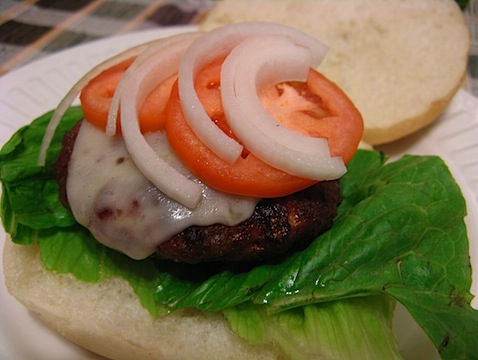 Of all the things I've been grilling lately, I hadn't gotten around to something like straight up hamburgers, which are really kind of the essential grilled food. Don't get me wrong, I love hamburgers, particularly of the homemade variety. I guess I've been making somewhat more ambitious foods lately, so the simple hamburger was not really high on my list. When I did decide that I was in a hamburger mood, it had to be something different, and I was struck with the inspiration of using a recipe from The Taste of Africa for kofta meatballs, but obviously forming them into burgers instead of meatballs. I had made the kofta before and they were phenomenal, so I deduced the hamburgers would be awesome too. This mix of spices makes such a delicious and unique burger, I'm sure I'll be making it often.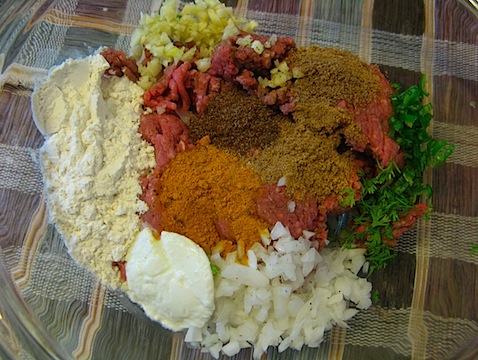 Everything in one large bowl. It's not surprising that I like this mix so much because it includes some of my favorite spices. All the veggies get chopped up extra fine so that they blend in with the meat well. I like to press the extra moisture out of the onions, too, so that the patties don't get too wet and fall apart. With the yogurt there's plenty of moisture anyway.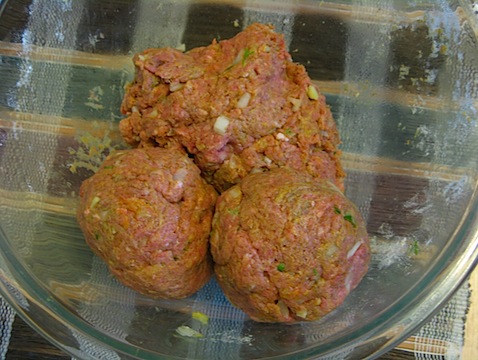 You have to get in there and really mix everything up with your hands. It's fun, in a getting-dirty kind of way. I got four medium-sized burgers out of this recipe. When they cooked up they were kind of small in diameter, but thick enough that they were plenty filling.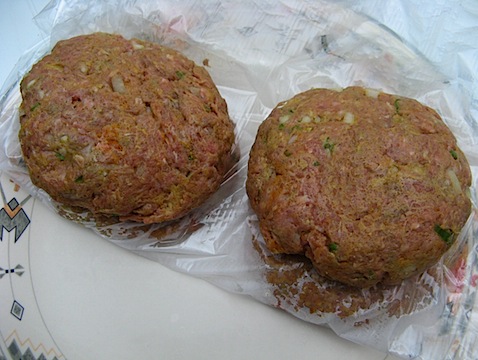 I stuck these in the fridge until the grill was ready. Cooking them from cold also has the benefit of helping them stick together. I didn't really have any problems with these falling apart, so I must have done something right.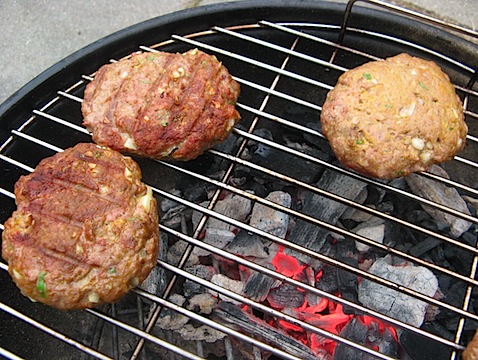 On the grill. I think I cooked these about 5–7 minutes on each side over medium-high heat, but I don't really remember. They were well done, but definitely still plenty juicy.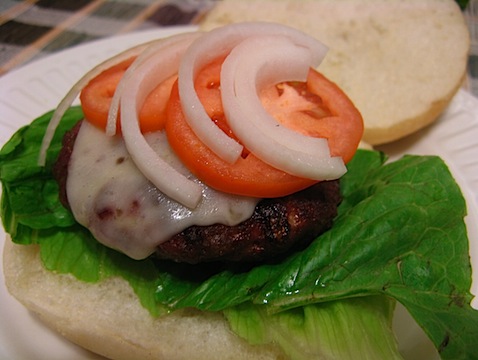 Dressed with lettuce, tomato and onion, with a mild provolone cheese. I also added some ketchup, but I didn't want anything with too strong of a flavor, since I wanted to spices of the meat to shine through. I wasn't sure how strong the spices would be, or how the mix would turn out in hamburger form, but they were fantastic. The spices shone through really well and made for extremely tasty burgers.
Kofta Burgers (adapted from The Taste of Africa by Rosamund Grant and Josephine Bacon)
Ingredients
1 pound of ground beef
3 tablespoons finely minced onion
1 tablespoon chopped fresh cilantro
1 tablespoon plain yogurt
4 tablespoons all-purpose flour
2 teaspoons ground cumin
1 teaspoon garam masala
1 teaspoon ground turmeric
1 teaspoon ground coriander
1 fresh green chili, seeded and finely chopped
2 garlic cloves, minced
salt and ground black pepper
Directions
Put the beef into a large bowl, add all the remaining ingredients and mix well with your hands.
Roll into four large balls and flatten into patties 1/2–3/4″ thick. Refrigerate, separated by wax paper or plastic wrap, until the grill is ready.
Grill over medium heat, 5–7 minutes on each side, or until the burgers are done to your liking.
Serve on a bun with all the hamburger dressings you like.