Prickly Pear Lime Sorbet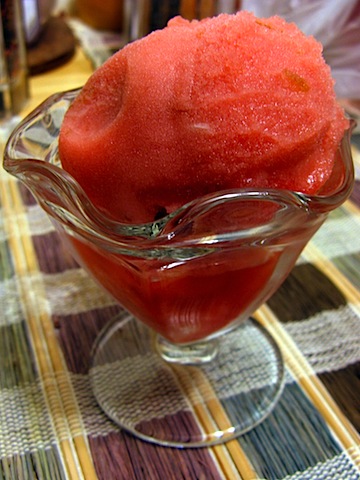 A couple of weeks ago, it got uncomfortably hot. Not hot like it gets in the southern river valley where I grew up, and not even that hot for some other more northern climates, but hot enough for me in my un-air conditioned apartment. So instead of baking for desserts, I decided to put my ice cream maker to good use. One of the ingredients I've been thinking about for a while is the prickly pear fruits that my local grocer carries. There are few recipes I had been considering, but I decided to slightly improvise a sorbet based on this Lime Mango Sorbet from Simply Recipes.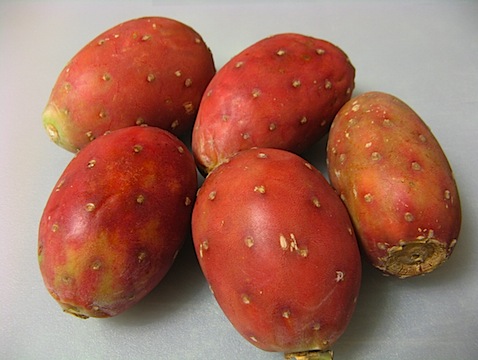 First, the prickly pear fruits need to be juiced, and this procedure I learned also at Simply Recipes. The ones I bought at the store had already been cleaned of their fuzzy needles and were perfectly safe to handle with my bare hands.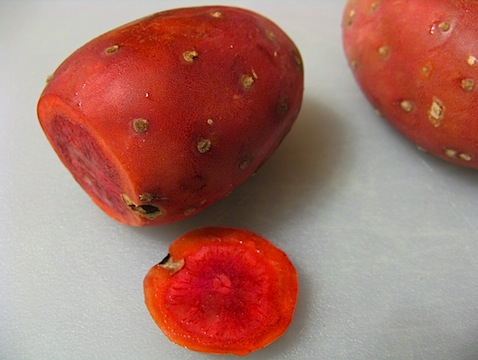 First, the ends get cut off.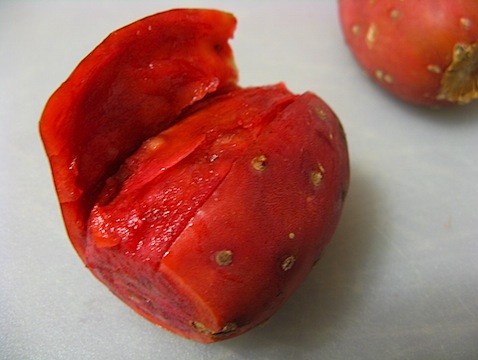 One longitudinal slice down the end, and the skin gets pried/sliced partly off to start. Once you get it started, you can pull it the rest of the way off pretty easily.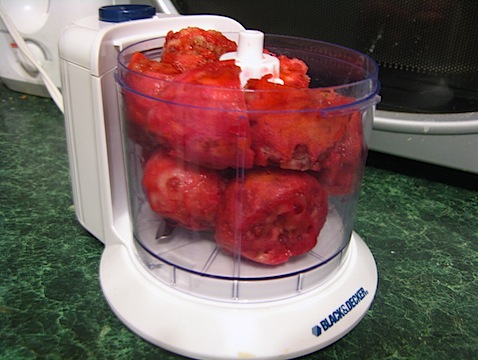 Once they've been skinned, they take a quick spin in the food processor.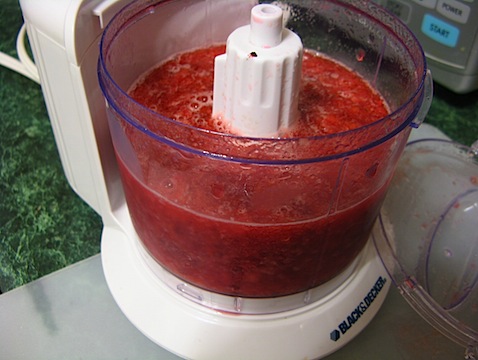 It didn't take long at all to reduce the prickly pears to juice. It is at this point that most recipes launch; the prickly pear juice (after straining the seeds out) can be used in baking, added to cocktails or lemonade, or made into sorbet!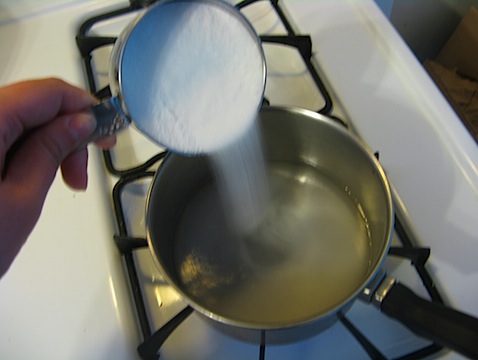 All the sorbet recipes I found had a base that is just simple syrup. Stir your sugar and water until the water turns clear again.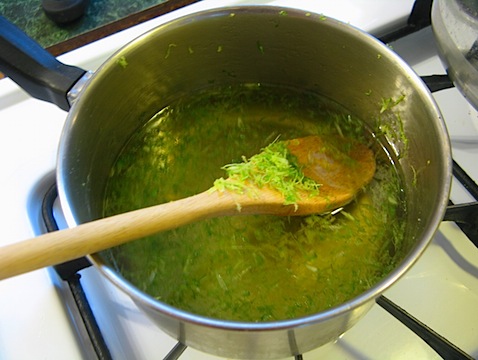 The zest of one lime goes into the syrup to infuse it with lime flavor. I think at this point, before adding anything else, I would strain the zest back out. In the final product the zest clumped together oddly, and while though not horribly unpleasant, was a little too much lime in one bite.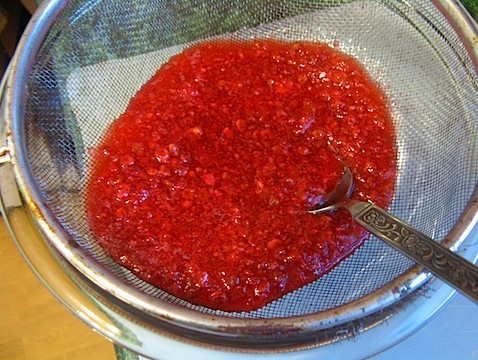 The seeds of prickly pears are edible, but are very hard and are large enough be unmissable Since they would not be a pleasant addition to a sorbet, I strained them out. However, I did want the pulp. This would probably have been easier with a slightly larger grade strainer, but using a spoon to push everything but the seeds through worked ok.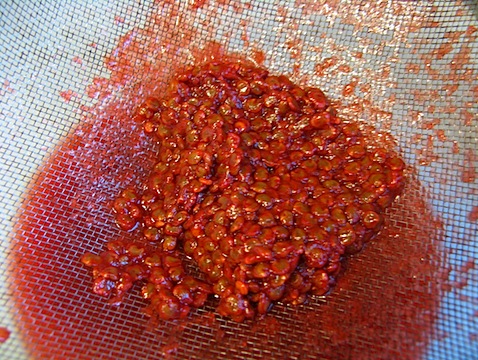 This is what was left over when I called it quits. I got pretty much all the pulp out and into the bowl below. After juicing 5 smallish prickly pears, I got about a cup of liquid and pulp, which is what I was aiming for.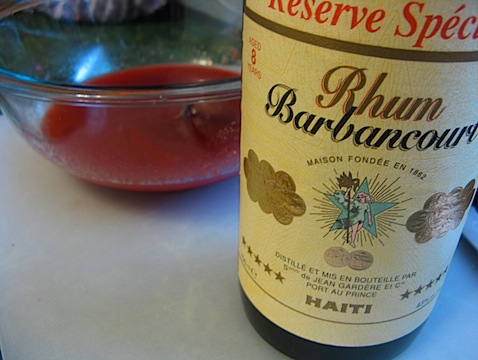 Adding liquor to the sorbet adds a bit of a kick, plus it keeps the sorbet from getting too icy. I chose a good rum to play on the tropical flavors in the sorbet.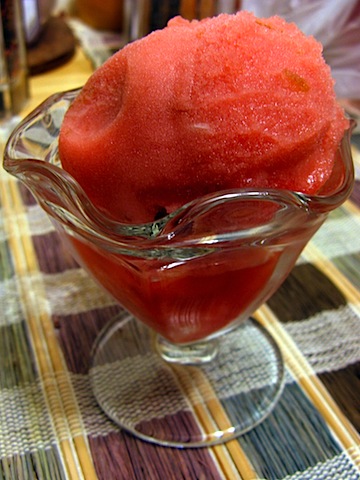 Even after setting in the freezer for days, the alcohol kept the sorbet super soft. It melts quickly in the heat, but the texture is fantastic. And the combination of the sweet prickly pear, which is almost melon-like in taste, and the tart lime is delicious. The sorbet was ridiculously easy since all it is composed of is simple syrup and fruit, so there's no cooking of a custard like in other ice creams. It's one of those things that would be great to whip together on a whim, just as long as the ice cream maker was clean and ready!
Prickly Pear Lime Sorbet (adapted from Simply Recipes)
Ingredients
1 cup water
1 cup granulated sugar
zest from one lime
1 cup prickly pear juice and pulp (about 5 small fruits)
1/2 cup of lime juice
pinch of salt
2 tablespoons rum
Directions
Heat the sugar, water, and lime zest in a medium saucepan until the sugar has completely dissolved. Set aside to cool and strain out lime zest.
Juice the prickly pears and separate the pulp and juice from the seeds.
Put the prickly pear juice, simple syrup, lime juice, and salt into a bowl and mix well. Cover with plastic wrap and refrigerate until completely chilled.
When ready to put the chilled mixture into your ice cream maker, mix in the rum. Process the mixture in your ice cream maker according to the ice cream maker directions. Transfer mixture to a plastic storage container and freezer in your freezer until firm, at least 6 hours.