Tomato Wraps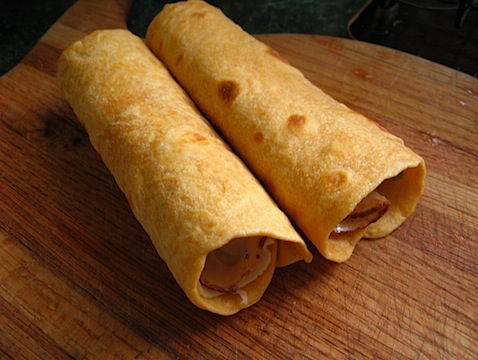 Wraps are one of those things that I always figured would be difficult to make at home. I thought that they would be impossible to get thin enough, that they would not stay flexible, that they would just not work as well for sandwiches. Despite this, I decided to try them out because it was way too hot to even consider turning on the oven, and cooking our lunch bread on the stovetop was very appealing. King Arthur has a fairly large variety of wrap recipes on their site, but I went with one that makes a flavored wrap like the ones that are so common in the stores. I had my misgivings, but it turns out I was completely wrong.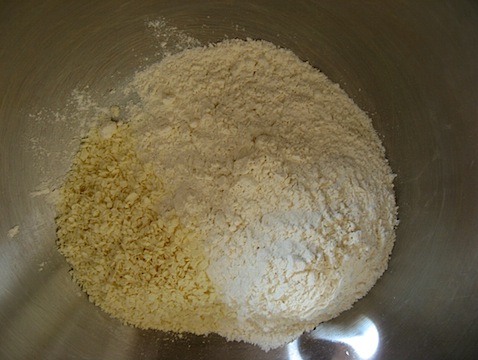 The dry ingredients consist of bread flour and potato flour, or potato flakes. I haven't come across potato flour in my local stores, so I purchased the least-offensive box of potato flakes (i.e., one whose ingredients look relatively natural) for the King Arthur bread recipes that call for them, which is quite a few when you really dive into their list. I went ahead and added the salt and yeast to the dry goods as well, since all the dry stuff should go together, and in hindsight this was a good idea. This recipe has a very small amount of yeast, and it shows; I'm not sure exactly what the yeast does, as this bread doesn't have a rising period really. But it clearly does something, since it's in there, be it in a minute quantity.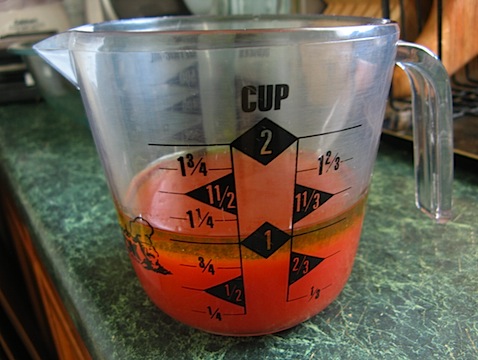 I had tomato paste concentrate on hand, so I mixed a couple of tablespoons of that up with a little more water than originally called for. The wraps weren't exceptionally tomato-y, but I find that most "tomato" wraps aren't especially tomato-y, and are instead identifiable as tomato solely by their orange color. These were definitely orange. But I'm sure you could really up the tomato paste content if you wanted more tomato flavor.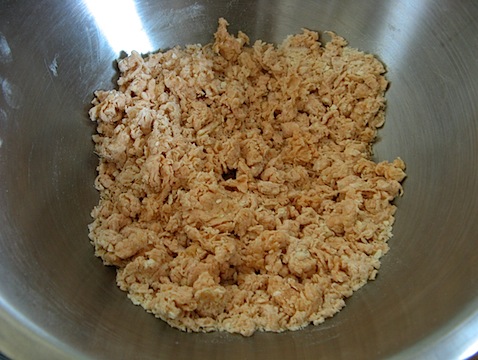 Here's why I said that it was a good thing I added the yeast and the salt early: after mixing in the liquids with a dough whisk, the dough consisted mainly of crumbles. If I had tried, at this point, to mix in yeast and salt, they would have never been distributed evenly throughout the dough.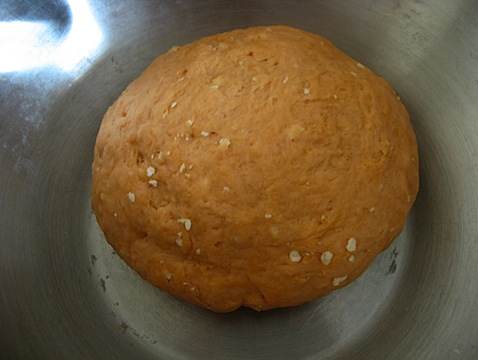 I actually "kneaded" this dough (not really like kneading since the dough isn't very elastic) in the bowl itself, and once I started kneading it, it came together beautifully. The recipe asks you to turn it out onto a well floured surface to knead it, but I'm pretty sure that would be a disaster: no amount of stirring was going to turn the dough into a ball without getting your hands in there, and any more flour would be way too much. The dough wasn't hardly sticky at all, and no extra flour was needed at all, either in this step or later in the rolling out. Those white pieces sticking out are the potato flakes; at this point I was wondering if I shouldn't have crushed them a bit first, but they disappeared completely in the finished product.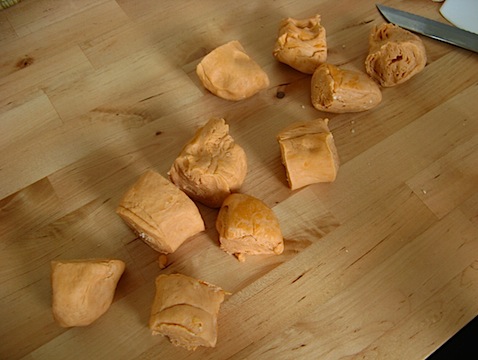 The dough is refrigerated for an hour (or overnight), then cut into 8 to 10 equal pieces. Eight yields larger wraps, ten gets us through a week of lunches. I went ten.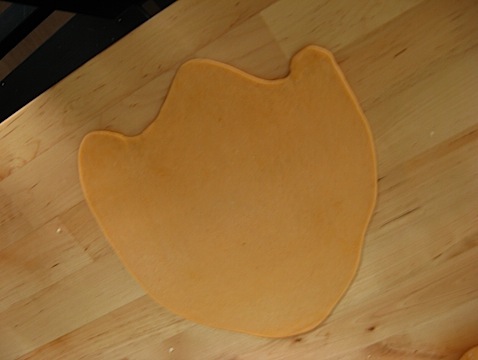 You have to roll them out very thin, which makes rolling them into circles somewhat difficult. This one happens to resemble a duck foot more than a circle; as long as it wraps around sandwich filling, it's ok with me.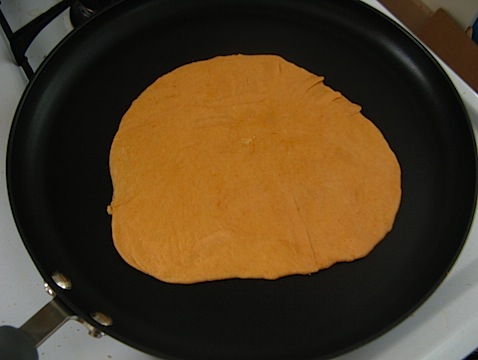 This one was a little more circular. They got cooked on a medium-hot ungreased, nonstick griddle for about 2 minutes on each side, or until they looked done. I mostly just eyeballed this based on how browned each side had gotten.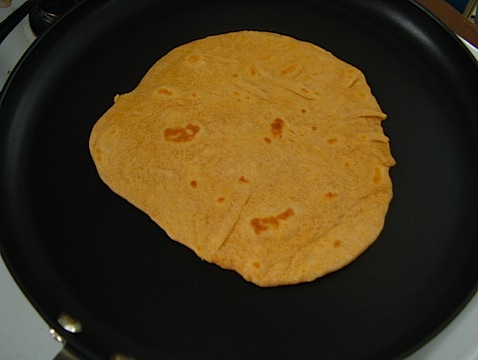 Here is the same wrap that has been flipped; you can see the browned portions where the wrap had bubbled. Most of my wraps didn't really inflate like they can apparently do, but if they do inflate, they'll deflate upon cooling. The last four wraps I cooked went crazy with the inflation, and I suspect it is because I let them sit in the refrigerator for a few days before cooking them, giving the yeast a bit more time to work its magic. While they were still tasty, the prettier wraps were the ones I made right off the bat.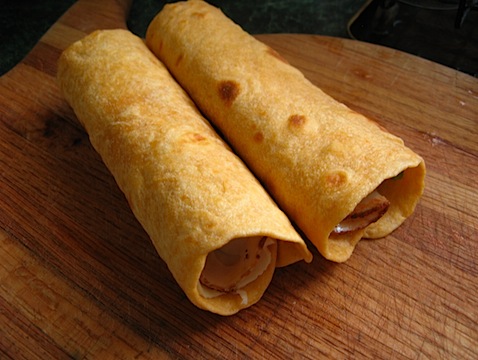 Once I cooked the wraps I was afraid that I hadn't rolled the thin enough, and that they wouldn't stay flexible enough to wrap a sandwich up. It seemed like they would harden up overnight, and if they didn't do it immediately then after a day they would be stiff. While I thought the fresh made wraps would probably be tastier than the store bought ones, I doubted the ability of them to stay soft without the preservatives they put in premade wraps. I don't know what it was about them, but I was definitely, and thankfully, wrong. Not only were they limber enough the next day, they stayed flexible for several days. There were one or two that I did roll a little thick, and they were flexible, just not big enough for a complete wrap, so they became like sandwich tacos. This was definitely a recipe I came into as a skeptic, but I was pleasantly surprised by the success of the wraps. Most of all, they're just a very easy recipe, and a perfect summertime one when you just can't bear turning on the oven. I know they'll probably have a regular spot in my bread repertoire.
Tomato Wraps (adapted from King Arthur)
Ingredients
3/4 cup (8 1/4 ounces) potato flour OR 1/2 cup potato flakes
3 cups (12 3/4 ounces) unbleached bread flour
1 teaspoon salt
1/4 teaspoon instant yeast
1/2 cup (4 ounces) water
1/4 cup (1 3/4 ounces) vegetable oil
1/4 cup tomato paste mixed with 1/4 cup water
Directions
Whisk together the dry ingredients (potato and bread flours, salt and yeast). Mix the liquid ingredients together and stir into the dry ingredients; dough will be dry and crumbly.
Use your hands to form the dough into a ball and knead it until it is smooth, only a couple minutes.
Refrigerate the dough for 1 hour (or overnight).
Work on a very smooth surface so that the dough does not stick. If necessary, flour or oil it lightly. Divide it into eight to ten equal pieces. Working with one piece at a time, round the dough into a ball, then roll it till it's very thin, about 1/8-inch thick.
Dry-fry the dough rounds on a medium hot, ungreased griddle for about 2 minutes on each side. The dough may puff a little, but will become flat again as it cools. As each bread finishes cooking, transfer it to a wire rack to cool, stacking one bread atop the other to keep them soft and pliable. Store in a ziploc bag with all the air removed to keep them fresh.