No-Knead Whole Wheat Baguettes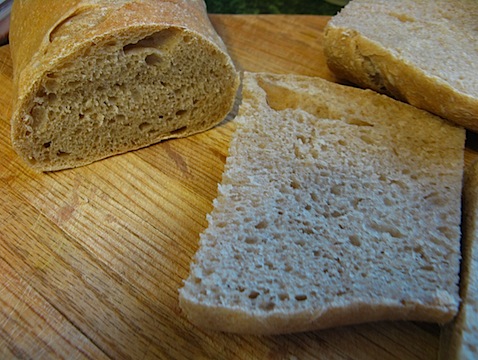 When this recipe was posted a few weeks ago on King Arthur Flour, it definitely registered on my radar. I've never attempted a baguette, but the main reason was really that every time I thought of making one, I thought of it too late and didn't have the time to do a starter the night before. This one has a pretty involved night-before preparation routine, but I this time I thought of making it in time. It was both easy and involved in different ways, but it definitely turned out a nice loaf of bread.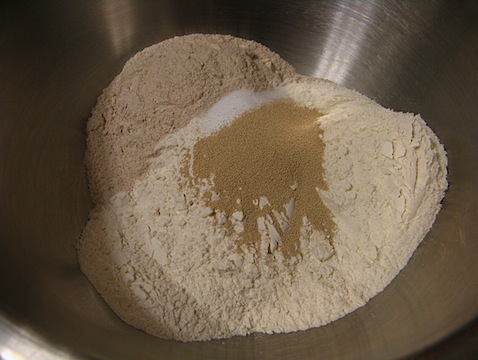 Ingredient wise, it's extremely simple: flour, yeast, salt and water. Because there's no oil in this, the loaves won't keep as long, but you get three or so loaves out of this dough and you can leave it in your fridge for up to a week, so it's pretty easy to just bake one loaf at a time as you need them. I actually used three kinds of flour in this one because I was out of all-purpose: 2 cups of whole wheat, 2 cups of european artisan flour, and 4 cups of bread flour.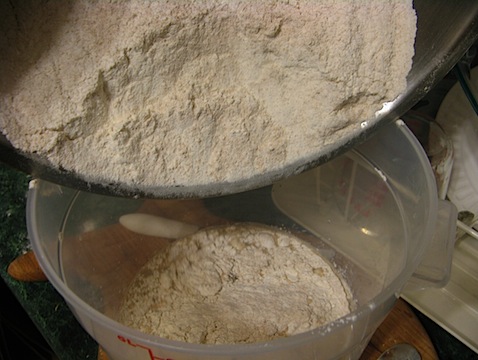 They actually have you just mix this in the dough rising bucket, which is pretty genius, and I wish I had thought of it before. You need a pretty large dough rising bucket for this, but I just happened to have the exact 6-quart bucket that they sell on King Arthur.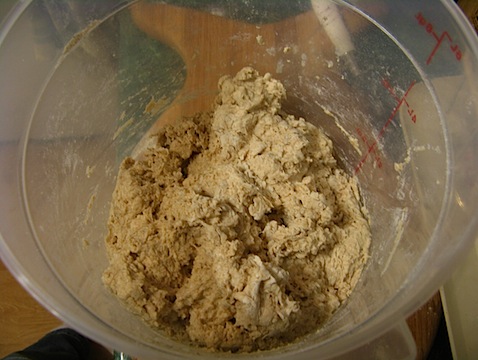 This dough is really wet, and it doesn't take much to bring it together.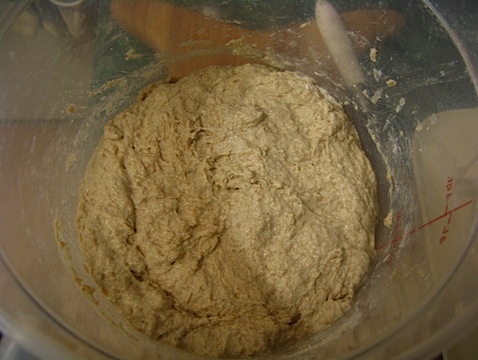 A couple of minutes with the dough hooks, and the dough looks just about as smooth as it's going to get. Between the slackness and the whole wheat flour, this is a pretty shaggy dough.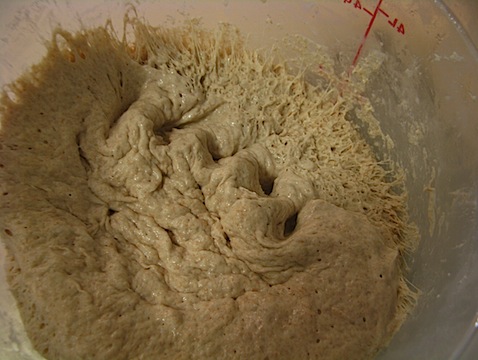 After spending the night in the fridge, the dough has developed some nice gluten. Here you can see where I stuck my fingers in it and pulled it away from the side of the bucket.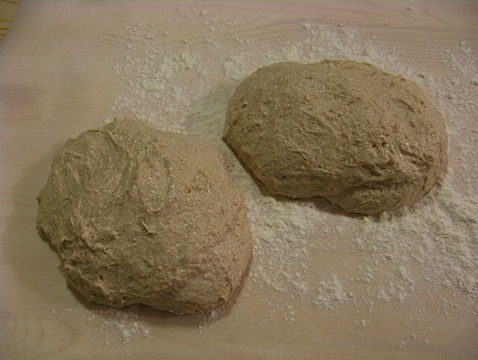 I made two loaves at once, and I had enough for a third loaf later on in the week. I pulled two similar-sized lumps out of the bucket and let them rest and come closer to room temperature for 15 minutes.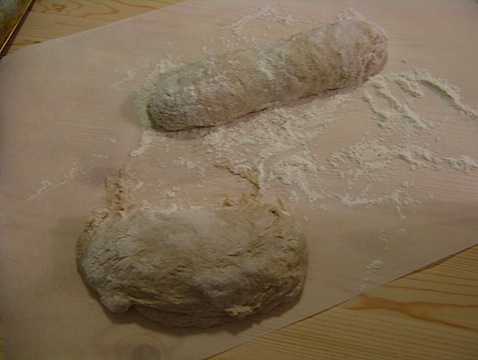 The way to shape these into logs is not to just roll them out but to fold them in half along their long axes. After you fold it twice it's elongated itself pretty much to its complete length, and then you can just roll it a bit to smooth it. Here's one loaf finished, and one after one fold.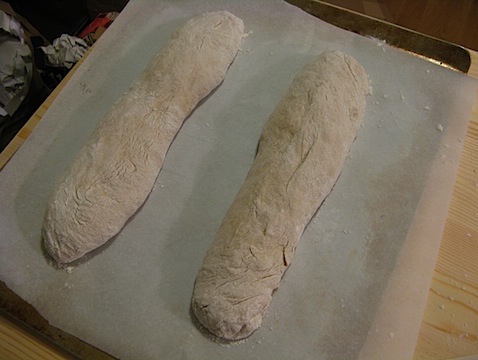 My shaping isn't great, but these don't have to be beauty queens. If you use enough flour, you'll get a nice flour coating on the outside that keeps it from sticking to everything and helps it rise better.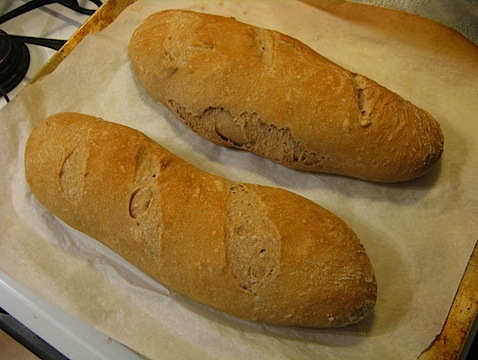 Slashed, spritzed and baked. Clearly I didn't slash the top baguette adequately enough, because you can see where it expanded along the edge. All in all, though, it came out well.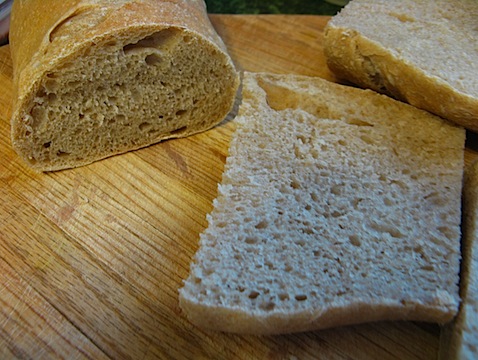 Like I said, it came out well. The crumb was pretty tight in general, interspersed with holes. The crumb was probably a little denser than a baguette in general, but it was good for sandwiches, where a too-loose crumb could mean leaking and falling apart. The flavor was very good, and the crust was slightly chewy but not crisp or crunchy; I'm not sure what it is about my crusts but I cannot get a crunchy crust to save my life. I didn't try too hard with this one, because honestly the softer crust is better for sandwiches. Eventually I'll probably figure it out. This split well horizontally for small sandwiches, and a slightly smaller loaf would probably be perfect for a larger sub.
No-Knead Whole Wheat Baguette (adapted from King Arthur Flour)
Ingredients
3 cups lukewarm water
6 cups unbleached all-purpose flour
2 cups whole wheat flour
1 tablespoon table salt or 1 1/2 tablespoons kosher salt
1 tablespoon instant yeast
Directions
Find a large (6-quart) bowl or bucket, for dough storage in the fridge. Lightly grease the bowl or bucket.
Place the water directly into the bowl or or other large container.
Add the dry ingredients to the water, and stir to combine. Mix until there are no dry spots; the texture of the dough should be fairly soft.
Knead for 1 or 2 minutes in a stand mixer. Cover the container, and let the dough rest at room temperature for 2 hours.
Refrigerate overnight, or for up to 7 days.
To bake bread: Scoop out a scant 1 pound of dough (about ¼ of the batch, about 14 ½ ounces). Place on a well-floured work surface.
Shape the dough into a rough, slightly flattened oval, cover with greased plastic wrap, and let rest for 15 minutes.
Fold the dough in half lengthwise, and seal the edges with the heel of your hand. Flatten slightly, and fold lengthwise and seal again.
With the seam side down, cup your fingers and gently roll the of dough into a 15″ log.
Place the log seam-side down onto a lightly greased or parchment-lined baking sheet, or into the well of a baguette pan.
Cover and allow the baguette to rise till it's very puffy, about 1 1/2 hours. Towards the end of the rising time, preheat your oven to 450°F.
Slash the baguette three or four times on the diagonal.
Spritz the baguette heavily with warm water, and bake until a very deep golden brown, 25 to 30 minutes. Remove from the oven and cool on a rack.